The Complete Tanach in Hebrew and English, with Vowels!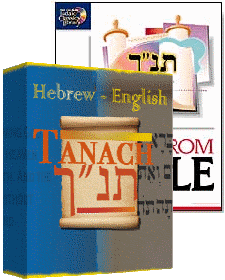 The CD-ROM Bible is the perfect introduction to the exciting world of CD-ROM.
Hard Drive Installation
Copy the complete program to your hard drive. No need to insert the CD each time.
Hebrew text of the Bible is displayed with Nikud and Ta'amei Hamikrah.
Ability to point text from different libraries on the same page.
Instant look-up to chapter and verse.
Powerful, yet easy-to-use search function for speedy text retrieval.
Unique linking feature which displays primary text and commentaries in simultaneously scrolling windows.
Changable font, size, style, and color.
Capability to print directly from the program, or copy and paste to other applications.
This CD-ROM includes a modern English translation that is faithful to Jewish tradition and easy to comprehend. English translation by Yechezkel Shatz, winner of the International Jerusalem Bible Quiz; written in idiomatic modern English, and faithful to Orthodox Jewish tradition.