The Premiere and Essential Hebrew/English Word Processor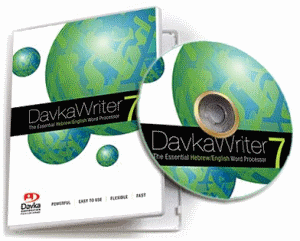 DavkaWriter 7 is the premiere Hebrew/English word processor for Windows, featuring full support for Nikud and Trop and many enhancements that automate Hebrew/English text preparation.
DavkaWriter 7 can handle everything from short documents and memos to full-length books and articles. It contains a wealth of powerful tools that make it easy to create complex Hebrew/English documents, complete with text boxes, footnotes, multiple columns, drop caps and graphics.
More images: Indexing | Multiple Selections | Borders/Layouts | Nikud/Trops
Read more: Advanced Features | Built for Hebrew | Designed with the home user in mind! | Sophisticated Documents | Free Bonuses | System Requirements
DavkaWriter 7 includes twenty-five new features and enhancements that will make your word processing more efficient, productive, and enjoyable. Here are just a few:
Modern program interface featuring the Multi-Toolbar and Object Toolbox
Draggable document tabs for efficient on-screen organization
Documents can be dragged to make separate groups of tabbed documents
Customizable application look
Zoom slider adjusts page zoom instantly
Screen Shot captures any part of the screen and saves as a graphic
Master Pages assists in creating consistent layouts in documents
Document Comparison finds similarities and differences between files
Text Library Additions - Torah/Haftarah readings and Rashi on Chumash
Fifty-five masterfully crafted Hebrew fonts
Two separate lists of recently-used fonts, one for Hebrew and one for English
Three hundred and eighty clip art images from the DavkaGraphics collections
Full-screen mode for viewing your document without clutter
Nudge currently selected object, or objects, via arrow keys
Hovering mouse over a document tab shows the path of the document's folder and location
Status bar displays the currently-scrolled page and the currently-selected text position
Work with two pages, side by side, without entering page preview mode
Powerful - Easy to Use - Flexible - Fast
DavkaWriter 7 is a fully featured Hebrew/English word processor with advanced enhancements included as standard. It's simple to use, yet exceptionally powerful. You won't find better value in a Hebrew word processor anywhere!