Read Rabbi Juravel's Parashah-Telling on the Book of Vayikra (Leviticus)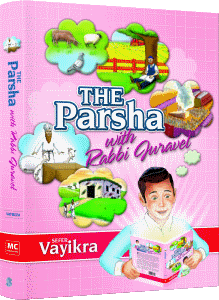 The ultimate Parsha book for kids!
By famous children's storyteller, Rabbi (Dovid) Juravel, author of A Journey with Rabbi Juravel, volumes 1, 2, 3 and 4 and A Story! with Rabbi Juravel, volumes 1 and 2. A comprehensive education on the entire parsha; this is a tremendous learning tool that will keep children absorbed for hours on end.
Book designed and photographed by Deenee Cohen.