Megillath Eichah - מגילת איכה - B'nei Torah Edition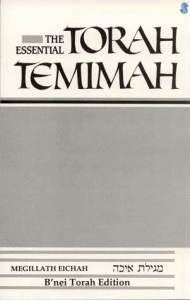 Inside
Pages
In this contemporary classic, every verse in Megillas Eichah is explained in accordance with its Talmudic derivation, expressing the synthesis of Talmud and Tanach.
Written in Hebrew by Rabbi Baruch HaLevi Epstein; Translated to English by Rabbi Shraga Silverstein
Torah Temimah
Torah Temimah, is an essential work containing the Five Books of Chumash and the Five Megillos along with commentary and the insights of our Sages. Weaves together related Halachot and Aggadah from Talmud Yerushalmi, Sifra, Sifre, Tosefta and Mechilta among others, together with concise explanations of the text. The clear and lucid style of this work makes learning enjoyable and accessible to all.