קריאת שמע עם מנורת לילה, חום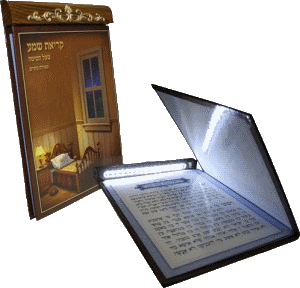 With this great gift idea, kids will never want to skip the K'riat Shema!
This Shema comes with a built-in reading lamp, so you can read the Shema without disturbing your sleeping siblings or roommates.
Easy to read
Beautiful graphics
No cords
Full size
Great gift idea for Upshern, birthday, prize, etc.
Battery operated.
Please do not use on Shabbat or Yom Tov.