Available in Ashkenaz or Sephardic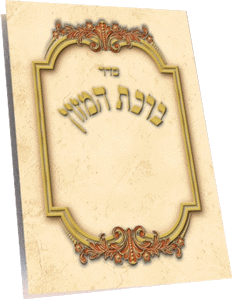 ברכת המזון בענטשער
#101
Beautify your occassion with a unique Bencher. This two-fold Birkon has a fine, creamy color background with a richly embossed, two-tone gold frame for that exclusive look. The inside is decorated with a matching, pretty border.The lettering inside the Birchat Hamazon are very clear and pleasing to the eye.
Get discounted prices when purchasing quantity.
Personalization
Get this Birchas Hamazon personalized. Make your event memorable with this souvenir. Every time Benching, your guest will read on the cover that they got it at your wedding, Bar/Bat Mitzvah, etc.
See all personalization options.