ארבעה טורים מכון ירושלים שירת דבורה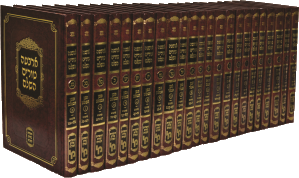 A set of Tur/טור by the best of the best!
Mechon Yerusholayim (Hebrew: מכון ירושלים) is world-renowned for their revolutionary and detailed work on many different projects. But their flagship publication was the Arba Turim Machon Yerushalayim (Hebrew: ארבעה טורים מכון ירושלים).
Specifically, the Cadillac of all their Turim stands out the Shirat Devorah (Hebrew: שירת דבורה) edition, with its extensive makeover and commentaries.
This edition offers twenty two (22) volumes.