From the Savta Simcha Series (#5)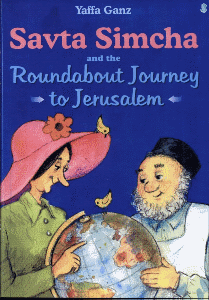 Savta Simcha is back!
In this newest tale, she and Uncle Nechemya set off from their little red-roofed house in Jerusalem to bring important gifts to friends around the world. Their adventures take them everywhere--from Alaska to Australia and back home again as they bring a little bit of Jerusalem to everyone they meet.
With charming, full-colored illustrations.
Perfect for children ages 4-10.

Contents
Sit-At-Home-Stay-At-Home
Winter Challos and Chilly Yeast
An Oily Error
Pocketfuls of Prayers
The Eiffel Fall
Fit for a Queen
Rainbows on the Moor
Bubble Gum and Polar Bears
The WaterSong Minyan
Lazy Joe in Paradise
Tunofito Fish
Dreamtime at the Billabong
The Journeys End