For young Children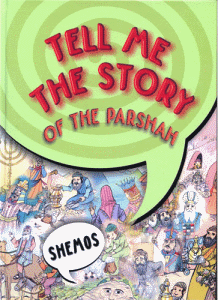 The Tell Me the Story of the Parshah series has quickly become a favorite among children all over the world. We a pleased to present you with the Yiddish translation of this great seller.
This book is charmingly written with young readers in mind. The beautiful illustrations that adorn the book contribute to its appealing design and enhance the reading experience.
This first volume covers all Parshiyot of Seder Shemot, including Shemot, Va'eira, Bo, Beshalach, Yitro, Mishpatim, Terumah, Tetzaveh, Ki Tisa, Vayakhel and Pekudei.
This series is geared especially for young children. The topics are written in clear and comprehensible language. The pages are filled with colorful and exciting illustrations, taking into account the custom to refrain from drawing the holy characters in the Torah. This series is will help instill Ahavat Hatorah and Yiraat Shamayim in the hearts and minds of your children. Laminated pages make it a breeze to keep clean.