Childen Tzitzis with Character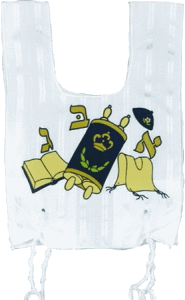 Adorable screen-painted Arba Kanfot for children, with a closed Sefer Torah and Mentelleh. Also on the Tallit Katan, is a Kippah, a pair of Tzitzit and some Hebrew Aleph Beit.
High Quality Kosher Permanent-Press Tzitzit Garment Durable and easy to wash
Made in Israel, meeting the strictest standards of Jewish Law. The tag attached is provided by the manufacturer and certifies it as Kosher.
Comes only with round neck and one hole.
ספר תורה